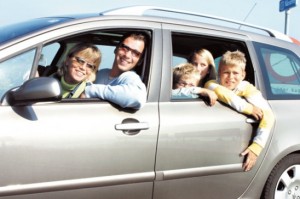 If you are like many parents, the idea of a long road trip with your kids is something that you dread.  Keeping them entertained while sitting in the car for long periods of time is daunting.  You hate the "Are we there yet?" question, and the long car ride is almost enough to turn you off from going on vacation all together.  Don't fret; here is a list of fun activities to do with your children while stuck in the car:
1. Hold a Family Spelling Bee or Trivia Game.  Write down age-appropriate questions on index cards and see who is the best speller or trivia expert in the family.
Play the Alphabet Game.  Think up a category (animals, groceries, etc), and go through the alphabet naming things in that category that start with each letter.
Family Storytelling.  One person begins a story with a sentence and then everyone else adds a sentence, taking turns, until you run out of ideas.
Travel Scavenger Hunt.  Make up lists of objects that you might pass along the road, and have each child try to find the things on his/her list.
Play Who Am I?  Think of a person everyone knows and give clues about that person (gender, hair color, etc) until someone guesses who it is.
Bring things to keep them entertained like books, a deck of cards, paper and markers, etc.
Have a family Sing-Along or complete a few Mad Libs as a family.
Play classic car games like I Spy, 20 Questions, or Rock Paper Scissors.
Keep journals.  Give your children journals to write about things they see along the road.  Have them make up a story about something.
Give your children maps to follow along on the journey.  They can highlight the roads you take and mark where you stop with stickers.
Play the License Plate Game.  Challenge your children to find license plates from every state.  Keep track of which ones you've seen.
Play the Geography Game.  Name countries or states and have your children try to name the capital.
With these game ideas, hopefully the family road trip can become more tolerable and maybe even something you look forward to!