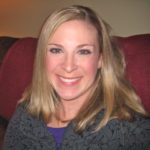 Emily Pritchett is a Speech-Language Pathologist at the Center for Pediatric Therapies. Based at our Lynchburg, Virginia location, Emily provides speech therapy services for children from birth to age 21 in a variety of settings, including outpatient clinics, home, and local schools. Emily particularly enjoys working with children who stutter.
Prior to joining the team at the Center for Pediatric Therapies, Emily completed clinical rotations in a nursing home and an elementary school in Baltimore, Maryland.
Emily holds a Bachelor of Arts in English from Gettysburg College in Pennsylvania. She then pursued second Bachelor's degree in Speech-Language  Pathology from Towson University in Maryland, where she also earned a Master of Science in Speech-Language Pathology.
Originally from Dallastown, Pennsylvania, Emily now resides in Lynchburg, Virginia. Outside of work, Emily enjoys playing and watching sports, going to Penn State football games, working out, reading, dancing, spending time with family and friends.