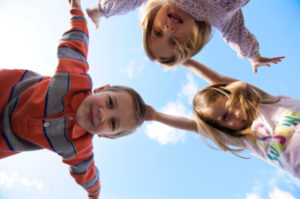 Despite the pressure that parents often feel to schedule their children's every activity, it is important not to over-schedule your child.  Make sure you are leaving your child with enough free time to encourage good, old-fashioned play.  Research has shown that that play is essential to a child's development.  Play contributes to the cognitive, social, emotional, and physical well-being of children.  Leaving your child with unstructured time to play in whatever way he or she chooses offers all of the following benefits:
Play encourages a child's creativity and imagination — they make up their own games and create their own imaginary world.  Creativity and imagination are an important part of brain development.
Play allows an opportunity for a child to work out his or her feelings, fears, and frustrations about things.  For example, a child can address fears at school by playing the role of teacher and helping her "students". 
Play helps children learn, as they engage and interact with the world around them.
Play builds self-esteem.  As children master their play world, they gain the confidence to face other challenges in the real world.
Play encourages children to develop social skills, as they interact with inanimate objects, and later, other children.  They learn to share, negotiate, and empathize with others. 
Play allows children to discover what their interests are and what they enjoy.  Eventually, they may discover passions they wish to pursue.
Play builds active, healthy bodies and increases physical activity levels in children.
When parents play with their children, parents and children learn to communicate better with one another and build their parent-child relationship.
Play helps children with language development.  As children talk repeatedly during play, they enhance their language skills through repetition of words.
Play is also important simply because it is how children experience fun and joy that should be a cherished part of childhood!
Don't let play get lost amidst the business of school and other structured activities.  A child whose every moment is scheduled loses out on all of the ways that play contributes to development.