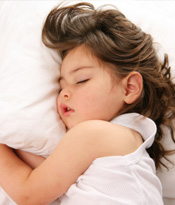 Since it is summertime, you may have relaxed your child's bedtime, and you may be a bit more flexible when it comes to his or her sleep.  But when you begin to think about your child's return to school, it is important to know how much sleep your child needs and how to help your child get the proper amount of sleep.
School-aged children need about 10-12 hours of sleep a night.  If they don't get enough sleep, they will become hyper, disagreeable, and prone to extremes in behavior.  It can also make it difficult for your child to pay attention in school.  It is important to set a bedtime to make sure that your child is getting enough rest each night.  Remind your child when the bedtime is getting close and encourage them to start getting ready.  Be firm in sticking to their bedtime.
It is also important to establish a bedtime routine to help your child fall asleep more easily.  Make sure to include a winding down period before bed.  Watching tv before going to bed can make it difficult to fall asleep.  Stick to things like a bedtime story or a song.  Having your child take a bath in the evening is also a good way to encourage him or her to calm down. Whatever bedtime routine you set, stick by it and follow the same sequence of events at the same time in the same order every night.  The predictability of the bedtime will make it easier for your child to relax and fall asleep.