Center for Pediatric Therapies (CPT) is pleased to announce its fifteenth year as the area's leading pediatric rehabilitation provider. Serving children and families in the city of Danville and surrounding regions, CPT specializes in occupational, physical, and speech therapy services for the pediatric population.
Established in 2001, Center for Pediatric Therapies is a full service rehabilitation clinic serving children from birth through age 21 in Southside Virginia. CPT offers a multidisciplinary approach to treat a variety of neurological, orthopedic, and developmental conditions. Services are delivered in the most appropriate environment for the child, whether that is in the home, daycare, school, or outpatient clinic setting.
Historically families living in the city of Danville, and neighboring counties, traveled sixty plus miles to secure rehabilitation services for their children. In September 2001, Center for Pediatric Therapies opened its first location in Danville, VA. Over the next several years, Center for Pediatric Therapies quickly expanded to house locations in Lynchburg, Martinsville, and South Boston, Virginia.
In 2004, Center for Pediatric Therapies broadened its scope of services and established Building Blocks Center for Children with Autism, a fully licensed and accredited private special education day school. Building Blocks provides specialized instruction and behavioral support for children and families affected by autism.
Since its inception, Center for Pediatric Therapies continues to function as the comprehensive provider of specialized pediatric rehabilitation, offering occupational, physical, and speech therapy services serving in the Southside and Central Virginia. Most recently, CPT has expanded to also provide services in Roanoke, Virginia.
Terri Brinkley, mother of a former patient of Center for Pediatric Therapies is thankful for the dedicated therapists that helped her son, Caleb, to thrive.
"Caleb grew up at CPT. We spent two or three times a week there until he was eight years old. Caleb is now a successful student at Galileo High School and is involved in many extracurricular activities. Because Caleb received specialized care in his early childhood, we see no end in sight to the possibilities in his life," states Mrs. Brinkley.
CPT is committed to not only providing specialized therapies for children, but also to supporting their families and the community as a whole. The Center for Pediatric Therapies is a proud sponsor of TOP Soccer and participates in various health fairs, career fairs, and other community events. In 2012, CPT established the Dan River Autism Awareness 5K in partnership with other local providers and businesses. The Autism Awareness 5k has grown to the be the largest 5k in Southside and has raised more than $200,000 and established the Autism Education Fund of the Dan River Region. (Save the Date! The 6th Annual Dan River Autism Awareness 5k is Saturday, April 29, 2017. Register now >)
Currently, CPT is collaborating with several local healthcare providers to establish a community-based autism diagnostic clinic for families to access and seek earlier diagnosis and intervention.
CPT is dedicated to helping the economic revitalization of the Southwest region through the recruitment and retention of skilled professionals in the fields of pediatric occupational, physical, speech, and behavioral therapies. CPT serves as a clinical training site for students pursuing careers in pediatric therapies. CPT now employs fifty-six therapists and support staff across five cities. The company looks to continue to grow; currently, CPT is hiring speech-language pathologists and physical therapists. (View job openings >)
Kristen Barker, Executive Director of the Center for Pediatric Therapies, addressed members of the staff at a reception held in honor of the company's anniversary. Barker said, "CPT's ability to serve and expand over the past 15 years is directly attributed to the dedication, skill, and quality of our therapists and support staff."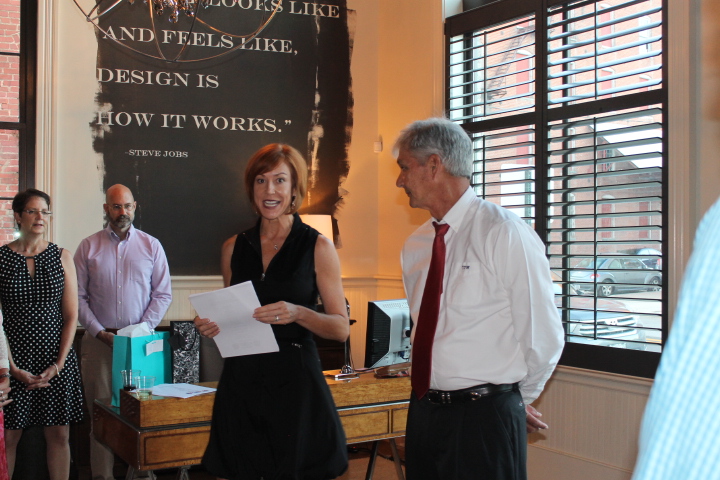 Staff who have reached 5, 10, and 15 year employment anniversaries were recognized at a reception held September 23, 2016 at the beautifully renovated headquarters of Supply Resources at 554 Craghead Street in Danville, Virginia.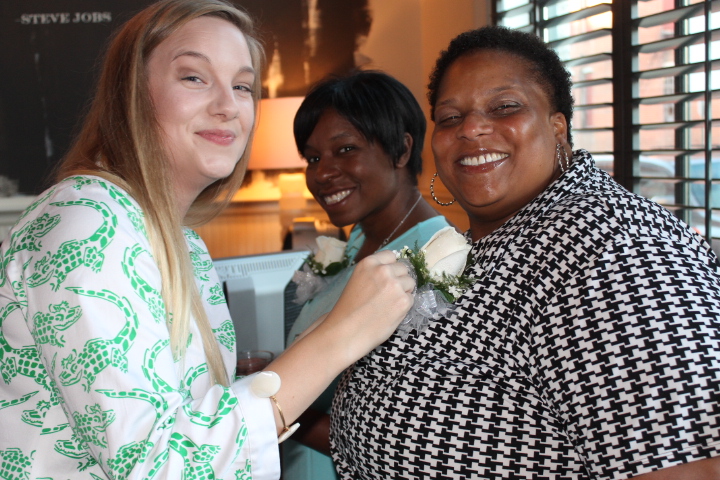 For more photos from the staff reception, visit our Facebook page >