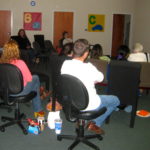 Building Blocks Center for Autism hosted a Lunch-n-Learn Thursday to educate people in the community about autism as part of National Autism Awareness Month. During the event, Nicole Walton, Program Director, and Courtney Adams, Behavioral Director, simulated the sensory overload that children with Autism experience. Participants in the simulation had to deal with flashing and flickering lights and blaring music while trying to complete a simple task.  The activity demonstrated the sensitivity that children with autism have to light and sound.
Autism is a complex developmental disorder with unknown causes.  Children with Autism experience social and communication difficulties.  They may also experience physical problems, such as seizures, sleep disorders, and gastrointestinal disorders.
Thank you to all of the participants for attending the Autism Awareness Lunch-n-Learn yesterday, and for your continuous support of our efforts to raise awareness of Autism Spectrum Disorders!
Read the full article here: "Autism Gets Local Attention"