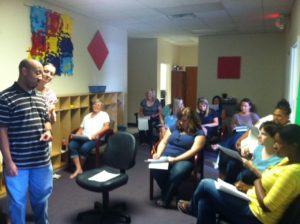 We are pleased to announce that Caron Inglis, MS, BCBA has joined the team at Building Blocks Center for Children with Autism.  Caron is an independent, board certified behavior analyst.  She will provide ongoing clinical and staff consultation in the field of Applied Behavior Analysis (ABA).
Building Blocks recognizes Applied Behavior Analysis (ABA) as the research-based method for successful treatment of children with Autism Spectrum Disorders. Intensive instruction significantly increases the chances for gains in intellectual and social development. Helping children with ASD requires qualified and highly trained individuals working together with families.
Here is some background information on applied behavior analysis and autism:
Behavior analysis focuses on the principles that explain how learning takes place. Positive reinforcement is one such principle. When a behavior is followed by some sort of reward, the behavior is more likely to be repeated. Through decades of research, the field of behavior analysis has developed many techniques for increasing useful behaviors and reducing those that may cause harm or interfere with learning.

Applied behavior analysis (ABA) is the use of these techniques and principles to bring about meaningful and positive change in behavior.

Today, ABA is widely recognized as a safe and effective treatment for autism. It has been endorsed by a number of state and federal agencies… Over the last decade, the nation has seen a particularly dramatic increase in the use of ABA to help persons with autism live happy and productive lives. In particular, ABA principles and techniques can foster basic skills such as looking, listening and imitating, as well as complex skills such as reading, conversing and understanding another person's perspective.

Source: www.AutismSpeaks.org
Caron's experience, knowledge and skills have already made positive impacts with our students and staff. We look forward to working with Caron throughout the upcoming school year!