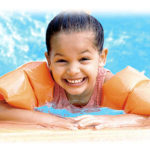 Summertime means kids are spending more time outside, so it is important that you know how to keep your child safe during the summer months.  Here are some important things to remember before sending your child outside to play:
1.) Sunscreen. Keep your child from getting burned by applying a sunscreen of at least SPF 30 15-30 minutes before going outside.  Reapply every 2 hours and after swimming or sweating a lot.
2.) Hydration. Encourage your kids to drink water throughout the day to stay hydrated.  If your child is active in sports, this is especially important.  Avoid sodas, juice, and fruit drinks.  Keep an eye on your child for signs of heat illness.
3.) Pool Safety. Every year, hundreds of children die of accidental drowning, so it is vital that you never leave your children alone near the pool, no matter their age or swim capability.  Thousands more children are injured every year at the pool, so make sure your kids follow the "No Running" rule.
4.) Bike Helmets. Nearly 300,000 kids every year go to the emergency room for bike-related injuries, so make sure your child wears a helmet to avoid ending up there.  Teach them about traffic and road rules as well.
5.) Playground Safety. According to the Consumer Product Safety Commission, more than 205,000 children every year visit the emergency room with playground-related injuries.  Supervise your children on the playground, and check equipment before they use it.  Ensure that surfaces are not too hot and that the ground is not asphalt or concrete.  It should be covered with wood chips, rubber mulch, or something similar.
6.) Insect repellent. Avoid bites from mosquitos and ticks by using insect repellent.  Check kids for ticks every night before bed.
7.) Poison Ivy. Teach your kids what poison ivy looks like and tell them to avoid it.  If they do come in contact with it, discourage them from itching it and wash the area with soap and water immediately.
Summer vacation should be fun and relaxing for everyone, as long as you ensure your child's safety by educating yourselves and them on these summer safety tips.