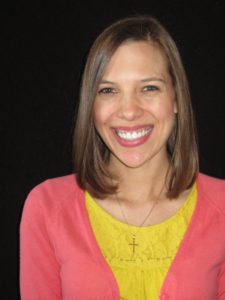 Katie Juza is an Occupational Therapist at the Center for Pediatric Therapies in Danville, Virginia. Katie earned a Bachelor of Science in Neuropsychology from Pennsylvania State University and a Masters of Science in Occupational Therapy from Boston University.
Katie provides occupational therapy services to children from birth to age 21 in our outpatient clinic, in patient's homes, and to students at Building Blocks Center for Children with Autism.
Prior to joining the CPT team in 2013, Katie completed a fieldwork assignment at a Harvard Medical School affiliate and worked at Helping Hands, a nonprofit organization that trains monkeys to assist individuals with spinal cord injuries and other mobility impairments.
Katie lived in Belgium for five years and has traveled or volunteered in over 10 countries. Outside of work, she enjoys spending time with family and friends, as well as volunteering with animals, rescuing dogs from shelters that euthanize, and transporting them to foster or forever homes.