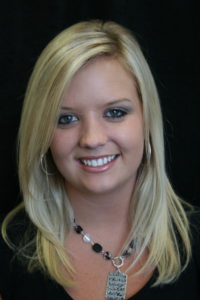 Kamryn East is an Special Education Teacher Assistant at Building Blocks Center for Autism.
Prior to joining the Building Blocks team in 2009, Kamryn earned a Bachelor of Science in Psychology from James Madison University.  She also holds a Certificate of Completion for the Autism Spectrum Disorders for Paraprofessionals course offered by the Virginia Commonwealth University Autism Center for Excellence (VCU-ACE).
While working at Building Blocks, Kamryn discovered her passion to become a speech-language pathologist. In December 2012, she completed the undergraduate program in communication science disorders. In April 2013, she become a speech-language pathology assistant at the Center for Pediatric Therapies. She is planning to further her education to pursue a career as a speech-language pathologist.
Outside of work, Kamryn spends a lot of her time as a wedding planner. During spare time, she enjoys traveling and spending time with her favorite mutt, Bentley.
Email Kamryn at keast@buildingblockscenterforautism.com
Meet more members of the Building Blocks team