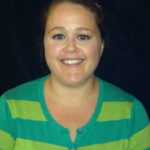 JoBeth Hamilton is a Speech Language-Pathologist at the Center for Pediatric Therapies in Danville, Virginia.  JoBeth provides speech therapy to children from birth to age 21 in our outpatient clinic, home settings and school settings.
JoBeth earned a Bachelor of Science in Elementary Education from Radford University in 2007.  She then earned a Master of Science in Communication Disorders and Sciences from Radford University in 2011. She is currently completing her Clinical Fellowship, and will apply for a Certificate of Clinical Competency (CCC) from the American Speech-Language-Hearing Association in March 2012.
JoBeth is originally from Dublin, Virginia but now resides in Danville.  Outside of work, she enjoys spending time wither her labradoodle, Scarlett, and being crafty.