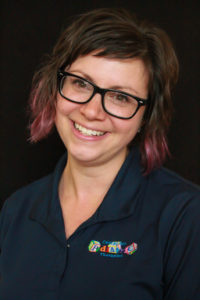 Jessica Brammer-Owens is a Speech-Language Pathologist at the Center for Pediatric Therapies in Danville, Virginia.
Jessica provides speech, language, and feeding therapy to children from birth to age 21 in our Danville outpatient clinic, patient's homes, and local schools. Jessica also serves as the Clinical Manager for our Danville clinic.
Jessica earned a Bachelor of Science in Education in Communication Disorders from the University of Wisconsin-Madison and her Master of Science in Communication Services and Disorders from the University of Wisconsin-Whitewater. Jessica holds a Certificate of Clinical Competency in Speech-Language Pathology (CCC-SLP) from the American Speech-Language-Hearing Association.
Jessica specializes in speech-language therapy for children with autism. Jessica is PROMPT I trained and enjoys working with a variety of communication disorders including child language and articulation/phonology, apraxia of speech, AAC, oral motor, feeding (including sensory feeding), voice, and stuttering. She also enjoys working with children with multiple disabilities. Jessica signs ASL and is able to provide total communication based therapy for children with hearing impairments.
Jessica hails from the Midwest. She worked for five years in North Carolina before relocating to Danville and joining CPT in 2011. When not working, Jessica enjoys knitting, crocheting, sewing, and just about anything that is crafty. She lives in Danville with her husband, daughter and two sons.