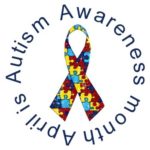 As Autism Awareness Month draws to a close, we leave you with five myths and facts about Autism.
1. Individuals with Autism are all alike
FACT: individuals with Autism are as different as can be, in fact the ONLY noted similarity that ALL individuals with an Autism spectrum disorder have is an unusual difficulty with social communication
2. Individuals with Autism do not have feelings
FACT: Most individuals with Autism are extremely capable of feeling and expressing love,sometimes though in not "typical" ways.
3. Individuals with Autism are a danger to society
FACT: While many individuals with Autism exhibit violent behaviors, those behaviors are almost always caused by frustration, physical or sensory over load, or a similar issue.
4. All individuals with Autism are savants
FACT: It is true that a relatively few individuals with Autism are "savants."  These individuals have what are called splinter skills which relate only to one or two areas of extraordinary ability.  The majority of individuals with Autism have ordinary or even less-than-ordinary skill sets.
5.  Individuals with Autism can't do much of anything
FACT: This myth truly injures our children.  Individuals with Autism can achieve great things, but only if they are supported by people who believe in their potential.  Often individuals with Autism are creative innovators and see the world through a different lens-when their perspective is respected, they can change the world!!